YOUR PERSONAL BACKUP BAND
Perfect for solo entertainers and home hobbyists alike, the BK-3 Backing Keyboard brings a new level of performance to entry-level auto-accompaniment instruments. Featuring a wide range of quality onboard sounds and rhythms, song playback via USB memory, built-in speakers, and more, this portable, self-contained keyboard puts the power of a full ensemble under your fingertips. From one-person shows to social gatherings to personal practice, the BK-3 brings endless hours enjoyment for playing all musical styles.

Features:
– Portable, self-contained keyboard with built-in sound system
– High-quality sounds, rhythms, and Music Assistants
– Comfortable, intuitive user interface
– Compatible with music rhythms from Roland's BK, E, G, and VA series
– Play a variety of backing formats (SMF, MP3, WAV, and rhythms) and record performances with optional USB memory
– Roland Wireless Connect capability for cable-free communication with iPhone and iPad; free iOS apps available for music sharing, lyrics display, and more
– Available in black or white finish

Specifications:
• Keyboard:
Keyboard type: 61 keys (velocity sensitive)
Keyboard Modes: Whole, Split, Dual
• Display type: 132 x 64 dots, Graphic monochrome LCD (with backlit)
SOUND GENERATOR
• Max. Polyphony: 128 voices (GM2/GS/XGlite compatible)
• Sounds: 851 tones; 53 Drum Sets
• Multitimbral parts: 2 keyboard parts (UPP, LWR) + 16 song parts
• Master Tuning: 415.3 to 466.2 Hz
• Key Control (Transpose): –6 to +5 in semitones (for audio/MIDI data)
• Tempo change:
20 to 250 BPM for SMF and rhythms
75 to 125 % for mp3 and WAV files
EFFECTS
• Real Time parts (UPP, LWR):
Reverb and Chorus: depending on Rhythm/SMF Reverb Chorus Macro
1 Mfx (84 Mfx Editable Macro) (selectable via Tone Part Mfx)
EQ
• Rhythms/SMF section:
Reverb: 8 types
Chorus: 8 types
2 Mfx (84 Mfx Editable Macro)
EQ
BACKING SECTION
• Rhythms: 250 in 5 "Rhythm" families (localized rhythms for specific areas are included in the WORLD 1 and WORLD 2 families)
• Real-time player: Rhythms (STL), SMF (Format 0/1), KAR, mp3, WAV
• Key Control: –6 to +5 in semitones (for rhythm, smf, mp3/wav)
• Tempo Change: 20 to 250 BPM for SMF and rhythms
• Time Stretch: 75 to 125 % for mp3 and WAV
• One Touch memories: 4 suitable tones for each rhythm (Programmable)
• Rhythm and SMF Makeup Tools: Instrument-oriented editing
• Track Mute: for Rhythms/SMF
• Center Cancel: for mp3/WAV
AUDIO RECORDING
• Media: USB Flash memory
• Save format: Audio files: WAV (44.1 kHz, 16-bit linear)
METRONOME
• Time Signature: 1 to 32/16, 1 to 32/8, 1 to 32/4, 1 to 32/2
• Mode: Always, Play
• Count In: Off, 1 bar, 2 bar
PERFORMANCE MEMORIES
• Performance Lists:
Unlimited number (storage on USB memory)
Over 500 "Music Assistant" memories (internal memory)
5 "Factory Song" memories (internal memory)
• Performance memories per List: Max. 999
OTHER
• Search function: Quick location of Rhythms and Songs on the connected USB memory
• Demo: Yes
• Lyrics on Internal Display: SMF, mp3/WAV
• Panel Controls:
Volume Knob
Balance (Backing/Keyboard) Buttons
• Connectors:
Phone/Output Jack: 1/4" phone type (TRS connector)
USB COMPUTER port (Type B, reception and transmission of MIDI data)
USB MEMORY port (Type A, data storage devices)
MIDI IN, MIDI OUT (Visual Control function)
Foot Pedal jack: PEDAL HOLD/SWITCH (assignable)
• Speakers: 2 x 10 cm
• Rated power output: 2 x 7.5 W
• Power supply: AC adaptor
• Power consumption: 1,200 mA
• Auto Off function: Off, 10 min, 30 min, 240 min.
• Accessories:
Owner's Manual
AC adaptor
Power cord (for connecting the AC adaptor)
Music rest.
| No. | ID Kategori | Nama Kategori |
| --- | --- | --- |
| 1 | 100639 | Hobi & Koleksi |
| 2 | 100741 | Alat & Aksesoris Musik |
| 3 | 101410 | Keyboard & Piano |
Spesifikasi Roland BK-3 Backing Keyboard Black
| Atribut | Value |
| --- | --- |
| Masa Garansi | 12 Bulan |
| Jenis Garansi | Garansi Service |
| Jenis Keyboard | Arranger |
| Alat Musik Tradisional | Tidak |
| Jenis Piano | Elektronik |
| Jumlah Kunci | 61 |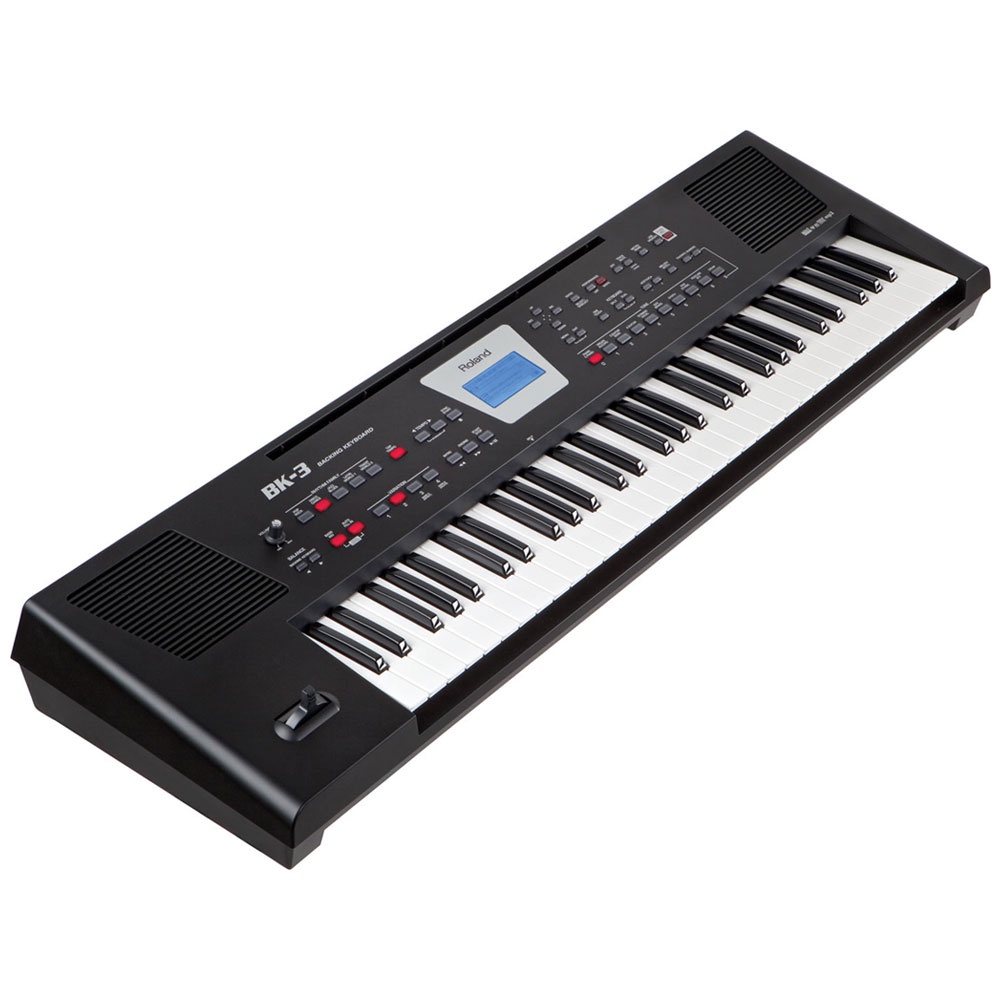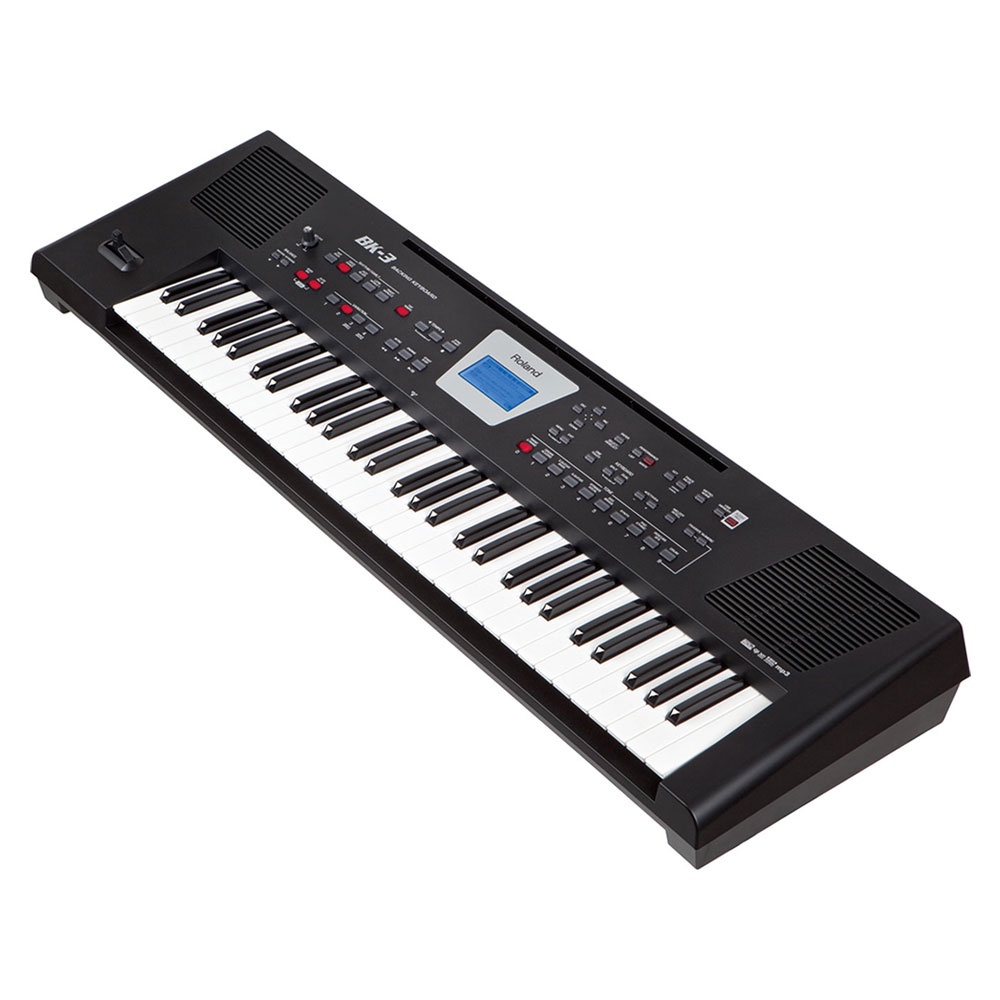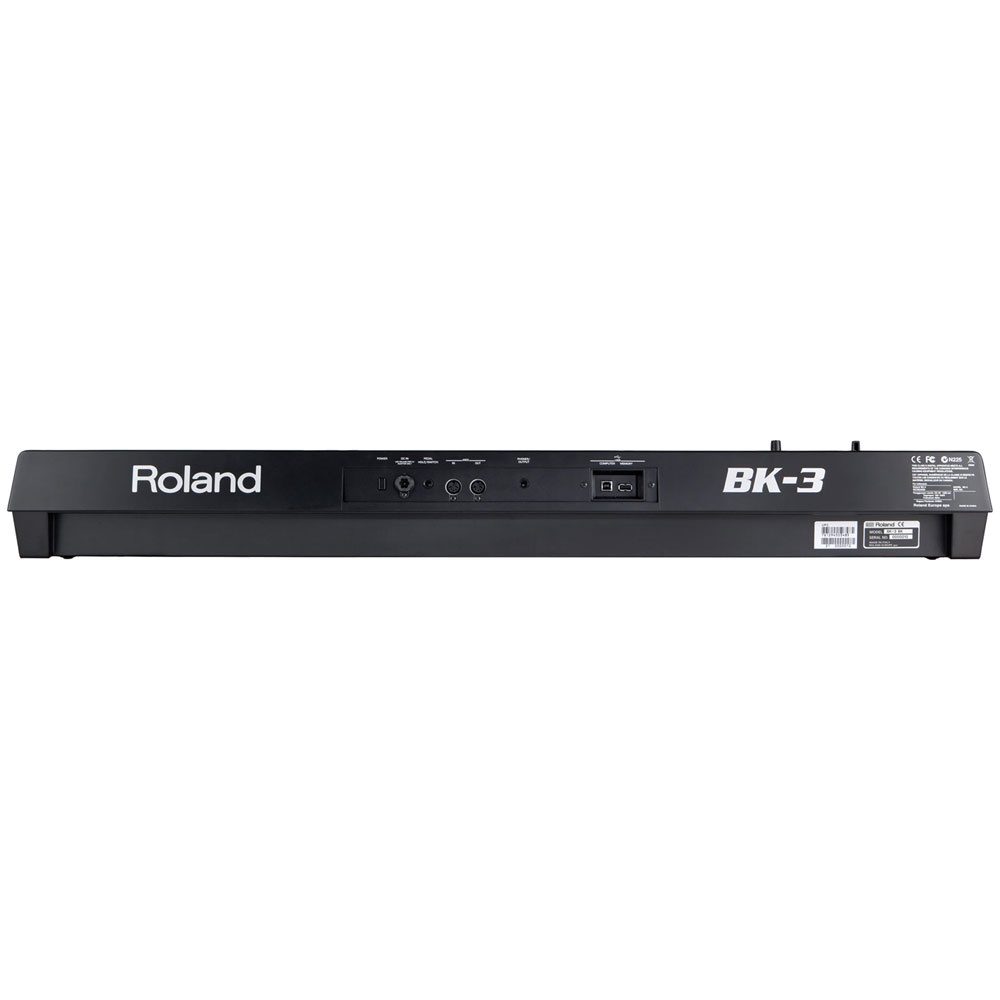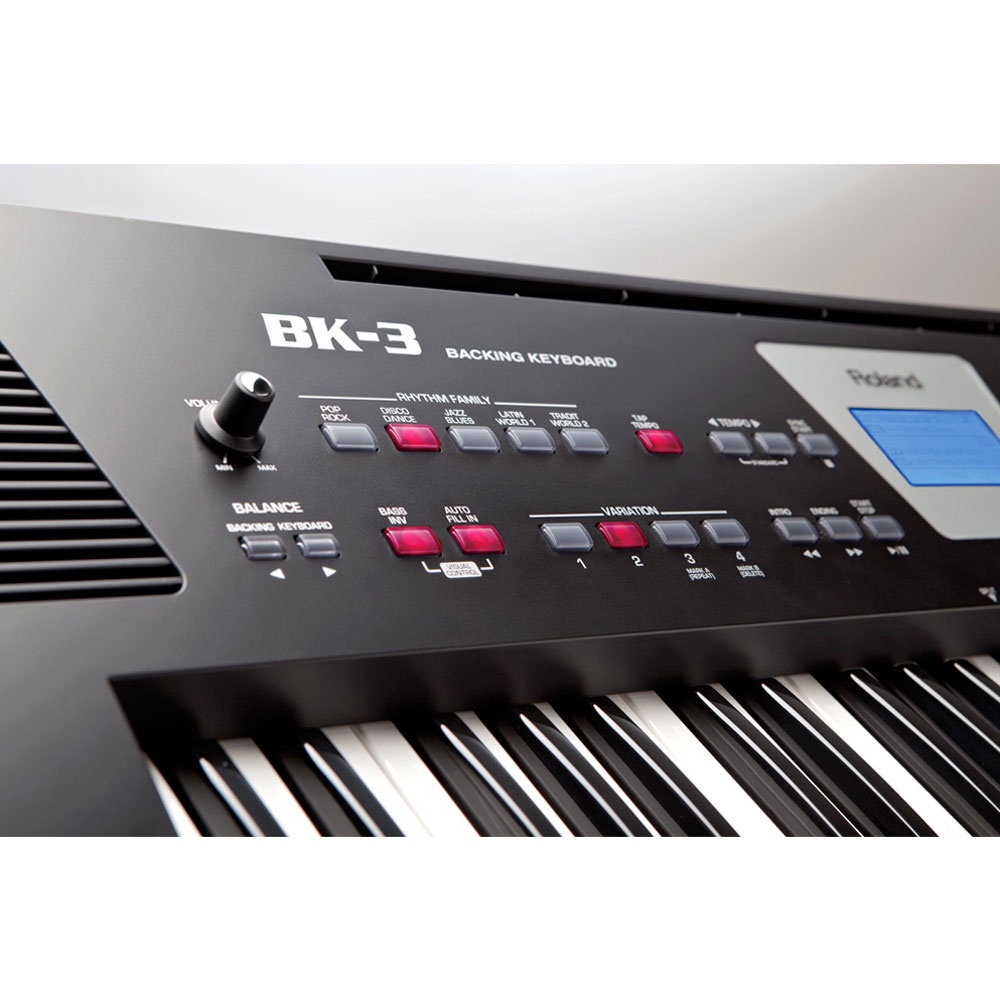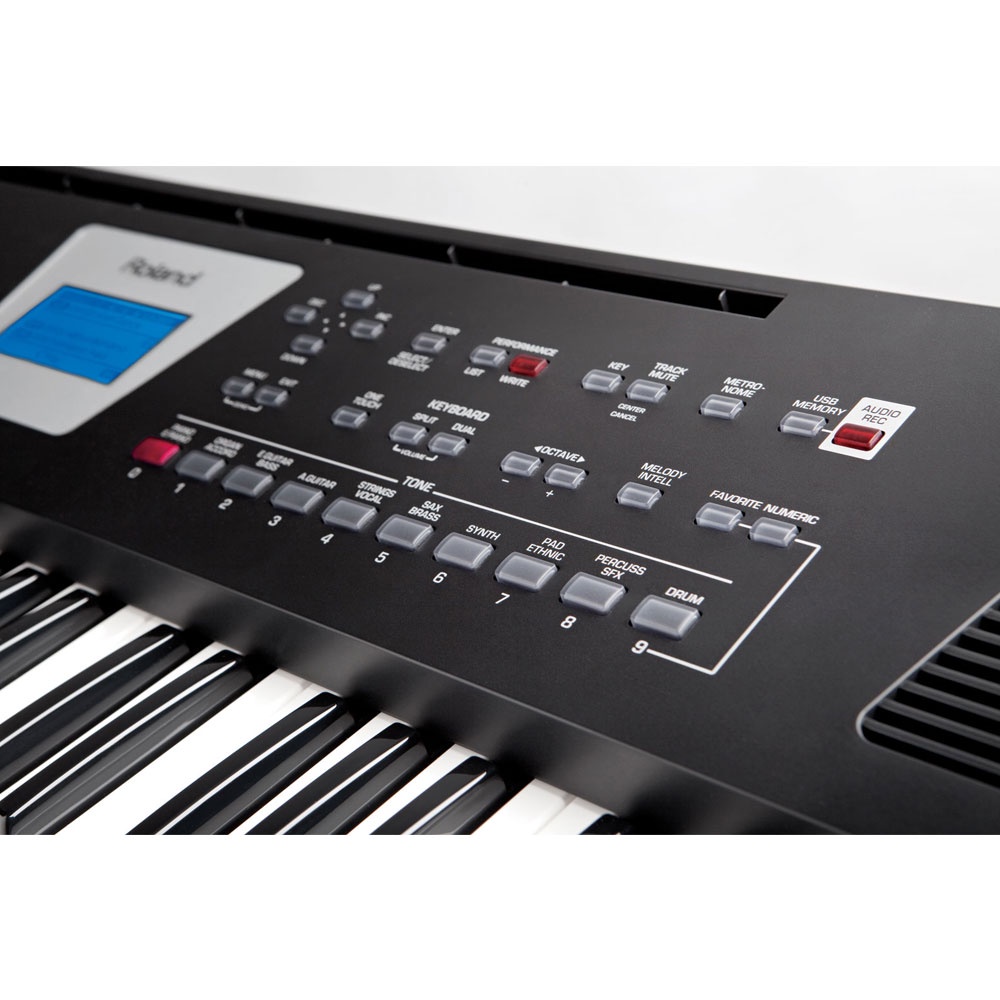 Produk ini memiliki 1 Variasi yaitu : ,
Alasan kenapa harus beli Roland BK-3 Backing Keyboard Black sekarang
Kelebihan – Kelebihan membeli Roland BK-3 Backing Keyboard Black di Toko ini
Jumlah Gambar Produk lebih dari 1, yaitu ada 5 gambar, menurut saya ini kelebihan karena semakin banyak gambar, maka akan mempermudah Anda mengetahui tentang Produk sebelum sampai ke tangan Anda
Produk ini memiliki Brand yaitu :Roland Jika Anda Fanatik Brand ini, tentu ini adalah kelebihan
Produk ini sedang diskon sebesar 11%%. Buruan Sikat!. Jika saat ini diskon Habis ya Maaf, kan Diskon ini ada saat Artikel dibuat. Cek saja dulu.
Toko ini termasuk Toko Official, Toko paling terpercaya untuk sebuah Merek adalah Toko Official.
Bisa dibeli dengan CC atau Kartu Kredit.
Harga Roland BK-3 Backing Keyboard Black saat ini masih murah hanya Rp. 6.586.000,00, kita tidak akan pernah tahu tentang Harga ini di masa depan, juga stok barang ini nanti atau besok hari, bisa saja harganya naik tinggi atau bisa juga stok sudah Habis.
Untuk menghindari kehabisan stok atau kenaikan harga yang tajam saya menyarankan Anda untuk segera mengecek dan membeli Produk ini sekarang juga dengan cara Klik Di sini
Bicara soal kelebihan sebelum Anda memutuskan membeli, berikut ini adalah kekurangan Produk ini menurut data yang saya ambil dari Shopee.co.id, Data ini valid saat tulisan ini ditulis dan tentu saja data ini bersifat dinamis, data terbaru akan Anda temukan setelah membuka Halaman Penjualan di Shopee.
Kekurangan – Kekurangan membeli Roland BK-3 Backing Keyboard Black di Toko ini
Mungkin masih Produk baru, sehingga belum ada Penjualan, tidak masalah Jika memang Anda suka
Produk ini tidak sedang Flash Sale, tidak semua Seller suka Flash Sale, saya rasa ini bukan kekurangan, Jika Anda anggap Harga Rp. 6.586.000,00 itu murah untuk ya ambil saja
Produk ini sayangnya memiliki Rating kurang dari 4 yaitu hanya 0
Tidak bisa COD, Bukan kekurangan, COD kan Harga lebih mahal 9% atau Anda harus membayar tambahan biaya lebih dari Rp. 592.740,00 Jika membeli barang ini dengan COD, Biaya 9% di samping baru dari harga barang, tambahan 9% untuk Ongkir belum saya hitung.
Tidak bisa dibeli secara Grosir, Bukan kekurangan yang berarti.
Kesimpulan
Setelah mengetahui kekurangan dan kelebihan di atas, sekarang Giliran Anda memutuskan, Jika Saya jadi Anda maka saya akan membuka Link Penjualan di Shopee dahulu, lalu mempelajarinya dan jika cocok maka langsung membeli hari ini.
Itu Jika Saya adalah Anda dan saya sedang mencari Produk ini.