Jam Along with Your Favorite Online Music Streamed from Your Smartphone
GO:KEYS is a fun, easy-to-use keyboard that lets you play along with your favorite music—streamed wirelessly through its powerful onboard speakers. Just connect your smartphone via Bluetooth®, pick a song, and play along! And with sound quality that beats most standalone Bluetooth speakers, GO:KEYS is great for just listening to music too.
GO:KEYS uses your smartphone to access free online musical content, so you'll never run out of songs to play along with. You can also work with dedicated apps that teach you how to play the latest songs or classical pieces, or get vocal with some karaoke. And when you're ready to start creating your own music, the built-in Loop Mix function lets you jam with over 500 pro-quality onboard sounds. Compact, portable, and battery-powered, GO:KEYS can be played wherever you get the urge. A world of music is waiting for you—start the journey with GO:KEYS!

Features:
– Onboard high-quality Bluetooth speakers for wireless smartphone connection
– Compact and lightweight for playing anywhere, at home or outdoors
– Fully wireless operation with battery power and Bluetooth connectivity
– Over 500 pro-quality sounds: pianos, synths, strings, bass, brass, and more
– Loop Mix function lets you build songs by simply playing notes on the keyboard
– Manipulate the sounds of your loops with intuitive one-touch control
– Bluetooth MIDI support for music production apps on your smartphone or tablet
– Built-in song recorder with USB backup
– Play anytime with built-in speakers or headphones

Specifications:
KEYBOARD
• Number of Keys: 61 keys (Ivory Feel and Box-shape Keys with velocity)
• Touch Sensitivity: Key Touch: 3 types, fixed touch

SOUND GENERATOR
• Maximum Polyphony: 128 voices
• Parts: 16 parts (Keyboard play: 8 parts, LOOP MIX: 8 parts)
• MIDI Format: Conforms to GM2
• Number of Tones: 554 tones
*GM2 compatible sounds are included.
• Effects: Multi-Effects / Chorus / Reverb
*Only Reverb level is adjustable.
• Master Tuning: 415.3 Hz–466.2 Hz (adjustable in increments of 0.1 Hz)
• Transpose: -5–+6 (in semitones)
• Octave Shift: -3–+3
• Sampling Frequency: 44.1 kHz

LOOP MIX
• Loop Mix Set: 22 sets
• Number of Patterns: 1,232 patterns (22 sets x 56 patterns)
• Chord: Interactive Chord function
• Tempo: Quarter note = 5–300

PERFORMANCE PAD
• Number of Pads: 10 (5 x 2)
• Function:
Bender: Pitch Bend / Modulation
Effect: Roll / Filter

RECORDER
• Save Format: Standard MIDI Files (Format 0)
• Song Storage: 99 songs (within the limits of Note Storage)
• Note Storage: Approx. 30,000 notes
• Tempo: Quarter note = 5–300
• Resolution: 96 ticks per quarter note

BLUETOOTH
• Bluetooth Ver 4.2:
Profile Support: A2DP(Audio), GATT(MIDI over Bluetooth Low Energy)
Codec: SBC (Support to the content protection of the SCMS-T method)
*This function is not available for GO-61KL.

OTHER
• Display: Custom LCD (with backlit)
• Amplifier Power Output: 2.5 W x 2
• Speakers: 12 x 6 cm (4-3/4 x 2-3/8 inches) x 2
• Connectors:
PHONES/OUTPUT jack: Stereo miniature phone type
AUX IN jack: Stereo miniature phone type
PEDAL jack: 1/4-inch phone type
USB COMPUTER port: USB Micro-B type (MIDI)
DC IN jack
• Power Supply: AC adaptor or Alkaline battery (AA, LR6) / Rechargeable Ni-MH battery (AA, HR6) x 6
*Carbon-zinc batteries cannot be used.
• Current Draw: 1,000 mA
• Battery Life for Continuous Use:
Rechargeable Ni-MH batteries (AA, HR6): Approximately 6 hours
Alkaline batteries (AA, LR6): Approximately 4 hours
*This figure will vary depending on the actual conditions of use.
• Accessories:
Owner's manual
Leaflet "USING THE UNIT SAFELY"
AC adaptor
*Music rest not included.
| No. | ID Kategori | Nama Kategori |
| --- | --- | --- |
| 1 | 100639 | Hobi & Koleksi |
| 2 | 100741 | Alat & Aksesoris Musik |
| 3 | 101410 | Keyboard & Piano |
Spesifikasi Roland GO-61K GO:KEYS Music Creation Keyboard
| Atribut | Value |
| --- | --- |
| Masa Garansi | 12 Bulan |
| Jenis Garansi | Garansi Service |
| Jenis Keyboard | Keyboard Pemula |
| Alat Musik Tradisional | Tidak |
| Jenis Piano | Elektronik |
| Jumlah Kunci | 61 |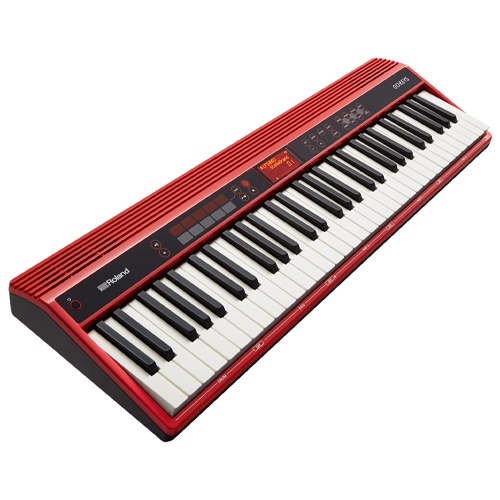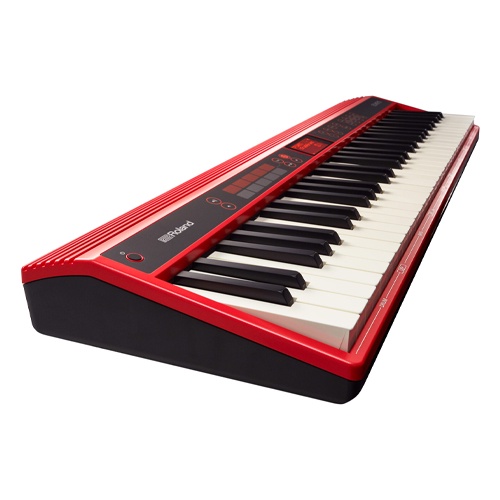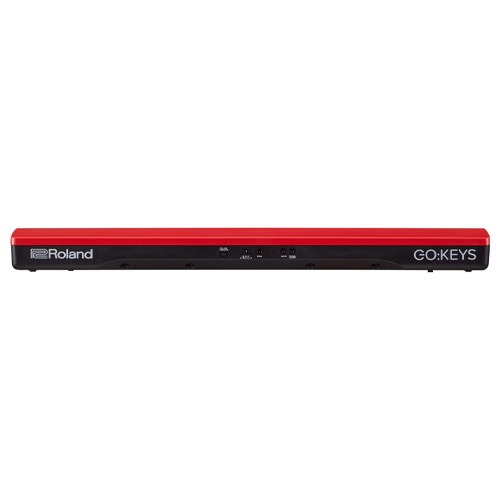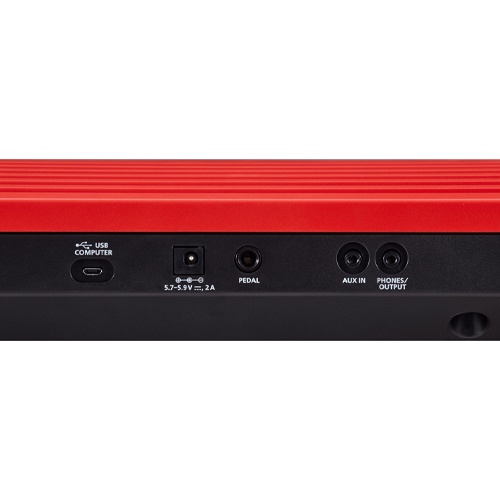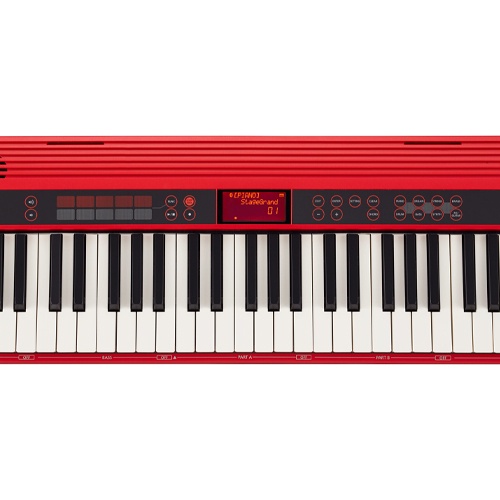 Produk ini memiliki 1 Variasi yaitu : ,
Alasan kenapa harus beli Roland GO-61K GO:KEYS Music Creation Keyboard sekarang
Kelebihan – Kelebihan membeli Roland GO-61K GO:KEYS Music Creation Keyboard di Toko ini
Jumlah Gambar Produk lebih dari 1, yaitu ada 5 gambar, menurut saya ini kelebihan karena semakin banyak gambar, maka akan mempermudah Anda mengetahui tentang Produk sebelum sampai ke tangan Anda
Saat Artikel ini saya buat, Produk sudah terjual 1 di bulan ini dan total semua ada 6 Penjualan dari saat pertama Produk diupload
Produk ini memiliki Brand yaitu :Roland Jika Anda Fanatik Brand ini, tentu ini adalah kelebihan
Produk ini memiliki Rating di atas 4 yaitu : 5
Produk ini sedang diskon sebesar 11%%. Buruan Sikat!. Jika saat ini diskon Habis ya Maaf, kan Diskon ini ada saat Artikel dibuat. Cek saja dulu.
Toko ini termasuk Toko Official, Toko paling terpercaya untuk sebuah Merek adalah Toko Official.
Bisa dibeli dengan CC atau Kartu Kredit.
Harga Roland GO-61K GO:KEYS Music Creation Keyboard saat ini masih murah hanya Rp. 5.918.500,00, kita tidak akan pernah tahu tentang Harga ini di masa depan, juga stok barang ini nanti atau besok hari, bisa saja harganya naik tinggi atau bisa juga stok sudah Habis.
Untuk menghindari kehabisan stok atau kenaikan harga yang tajam saya menyarankan Anda untuk segera mengecek dan membeli Produk ini sekarang juga dengan cara Klik Di sini
Bicara soal kelebihan sebelum Anda memutuskan membeli, berikut ini adalah kekurangan Produk ini menurut data yang saya ambil dari Shopee.co.id, Data ini valid saat tulisan ini ditulis dan tentu saja data ini bersifat dinamis, data terbaru akan Anda temukan setelah membuka Halaman Penjualan di Shopee.
Kekurangan – Kekurangan membeli Roland GO-61K GO:KEYS Music Creation Keyboard di Toko ini
Produk ini tidak sedang Flash Sale, tidak semua Seller suka Flash Sale, saya rasa ini bukan kekurangan, Jika Anda anggap Harga Rp. 5.918.500,00 itu murah untuk ya ambil saja
Tidak bisa COD, Bukan kekurangan, COD kan Harga lebih mahal 9% atau Anda harus membayar tambahan biaya lebih dari Rp. 532.665,00 Jika membeli barang ini dengan COD, Biaya 9% di samping baru dari harga barang, tambahan 9% untuk Ongkir belum saya hitung.
Tidak bisa dibeli secara Grosir, Bukan kekurangan yang berarti.
Kesimpulan
Setelah mengetahui kekurangan dan kelebihan di atas, sekarang Giliran Anda memutuskan, Jika Saya jadi Anda maka saya akan membuka Link Penjualan di Shopee dahulu, lalu mempelajarinya dan jika cocok maka langsung membeli hari ini.
Itu Jika Saya adalah Anda dan saya sedang mencari Produk ini.