Goats Don't Lie adalah sabun yang di proses secara tradisional, 100% natural. Mengurangi jerawat punggung, gatal-gatal karena alergi, eczema, atau psiorasis. Aman untuk anak-anak sampai orang tua.
Setiap tetes Goats Don't Lie mengandung susu kambing segar, olive oil yg kaya akan kelembaban, pure shea butter, dan jojoba oil.

Dengan Tea Tree Essential Oil sebagai anti-bakterial.

100% Pure, tanpa pengawet, tanpa detergen, tanpa bahan kimia.

Apapun aktivitas kamu atau berapa banyak keringat yang kamu hasilkan, Goats Don't Lie membersihkan kulit kamu tanpa meninggalkan rasa licin.

Goats Don't Lie is traditionally-processed, 100% natural liquid soap.
Each drop of Goats Don't Lie contains nature's best ingredients only like Real-Fresh Goats Milk, Moisture-Rich Olive Oil, Pure Shea Butter, and Moisture-Retaining Jojoba Oil.

100% Pure, No Preservative, No Synthetic Detergent, No Harsh Chemical.

With Tea Tree Essential Oil as anti-bacterial.

No matter what you do daily or how much sweat you get, Goats Don't Lie cleanses your skin gently without leaving any slippery residues. This liquid soap also helps reduce back acne and itching due to allergies, eczema, or psiorasis.
Safe for children and elderly too.

Enjoy your fresh, smoother, moisturized, and perfectly clean skin after each use.

INGREDIENTS:
WATER, OLEA EUROPAEA (OLIVE) OIL, POTASSIUM HYDROXIDE, CAPRAE LAC, COCOS NUCIFERA (COCONUT) OIL, RICINUS COMMUNIS (CASTOR) SEED OIL, GLYCERIN, BUTYROSPERMUM PARKII (SHEA BUTTER), MELALEUCA ALTERNIFOLIA (TEA TREE) OIL, SIMMONDSIA CHINENSIS (JOJOBA) SEED OIL, CITRIC ACID.

Peringatan:
Hindari daerah mata dan membran mukosa. Jika produk terkena mata segera bilas dengan air mengalir selama 10 menit dan gunakan obat tetes mata 3-4x selama 24 jam. Hubungi dokter jika iritasi berlanjut.

BPOM Notification Number:
POM NA18170701747

Exp : 2 Tahun – Sabun
dari tanggal manufaktur
| No. | ID Kategori | Nama Kategori |
| --- | --- | --- |
| 1 | 100630 | Perawatan & Kecantikan |
| 2 | 102002 | Perawatan Tubuh |
| 3 | 102003 | Sabun Mandi |
Spesifikasi THE BATH BOX – Goats Don't Lie Tea Tree ( Psoriasis, Back Acne )
| Atribut | Value |
| --- | --- |
| Masa Penyimpanan | 24 Bulan |
| Tipe Paket | Paket Hemat |
| Jenis Kemasan | Botol |
| Ukuran Produk | Ukuran Besar |
| Formulasi | Cair |
| Negara Asal | Indonesia |
| Komposisi | Tanpa Pewangi |
| Komposisi | Tanpa Paraben |
| Komposisi | Tanpa Silikon |
| Komposisi | Tanpa Sulfat |
| Handmade | Ya |
| Tanggal Kedaluwarsa | 1689181200 |
| Manfaat Perawatan Tubuh | Anti-Bakteri |
| Manfaat Perawatan Tubuh | Anti-Jamur |
| Manfaat Perawatan Tubuh | Anti-Bau |
| Manfaat Perawatan Tubuh | Eksim |
| Manfaat Perawatan Tubuh | Melembabkan |
| Berat Produk | 300g |
| Volume | 300ml |
| | susu kambing segar, olive oil |
| Jumlah Produk Dalam Kemasan | 1 |
| Ukuran Per Produk | 300ML |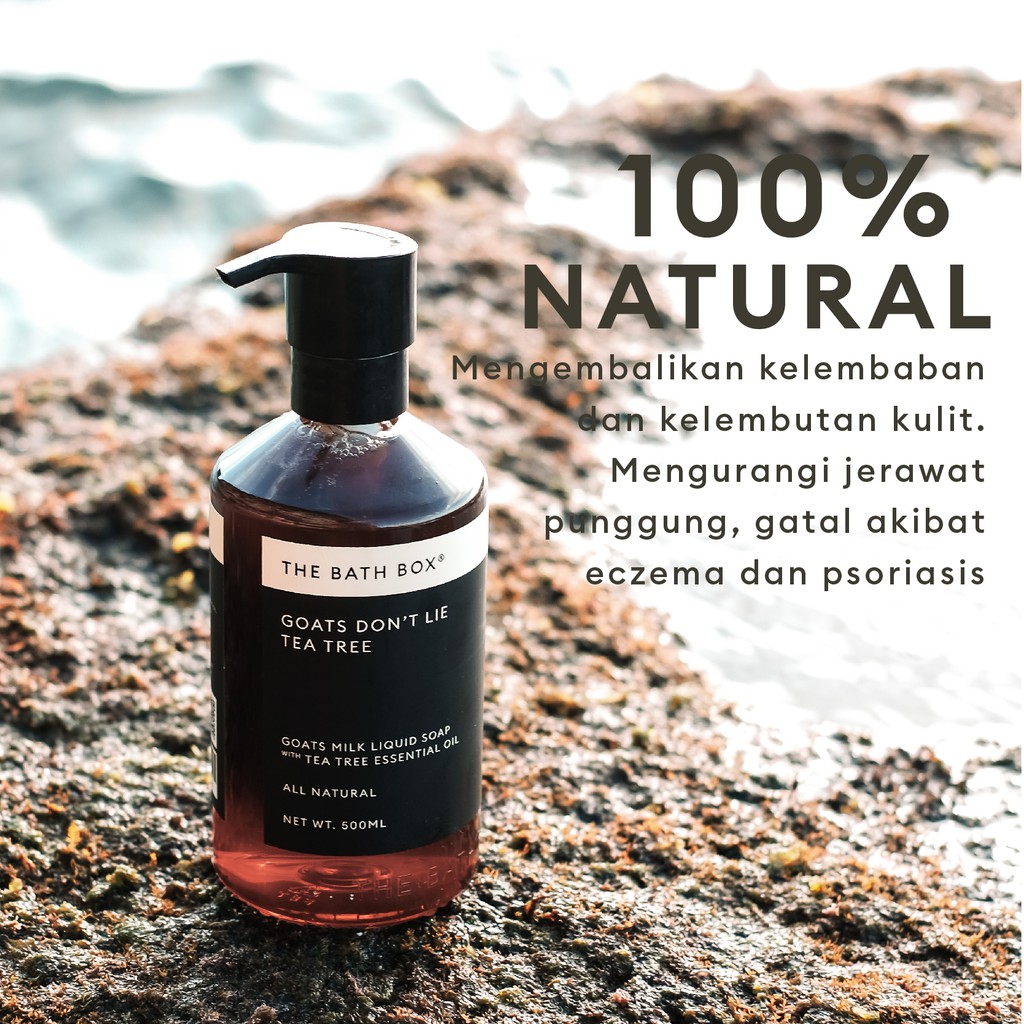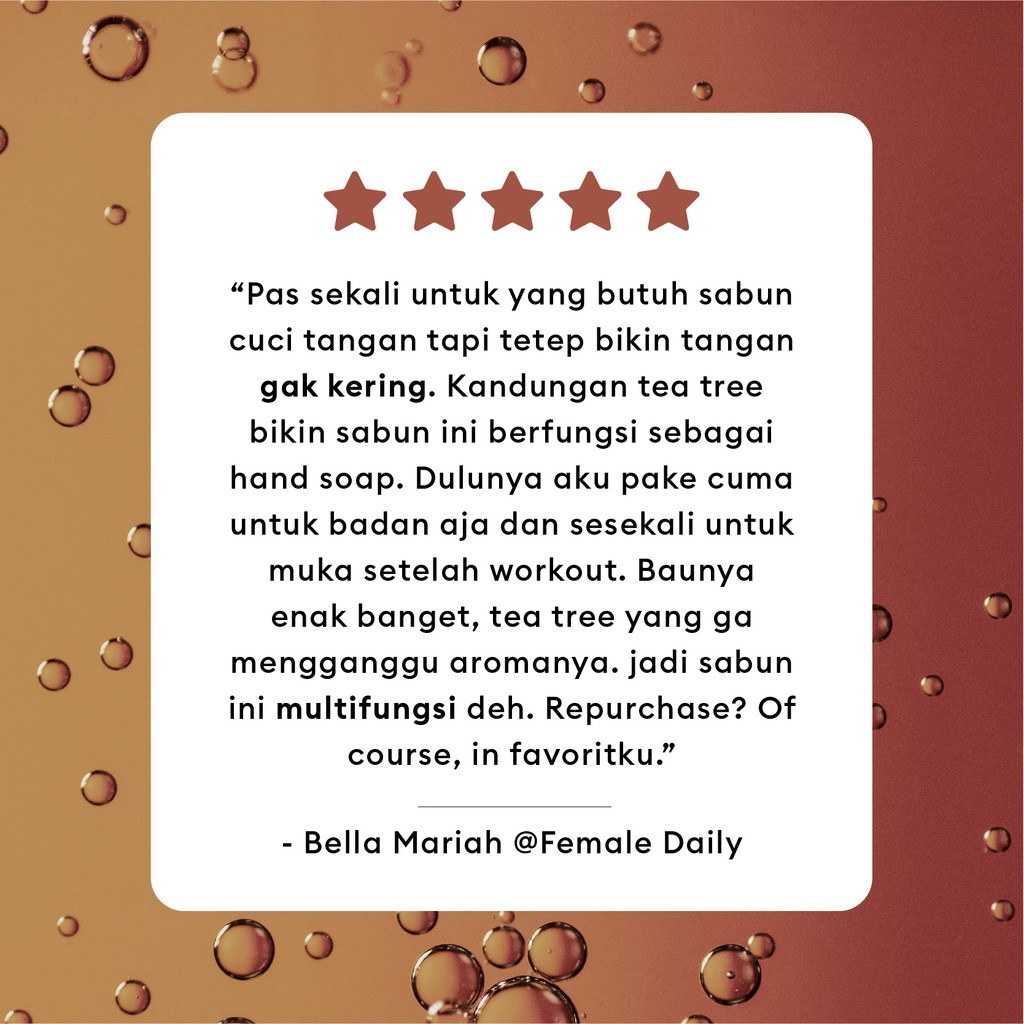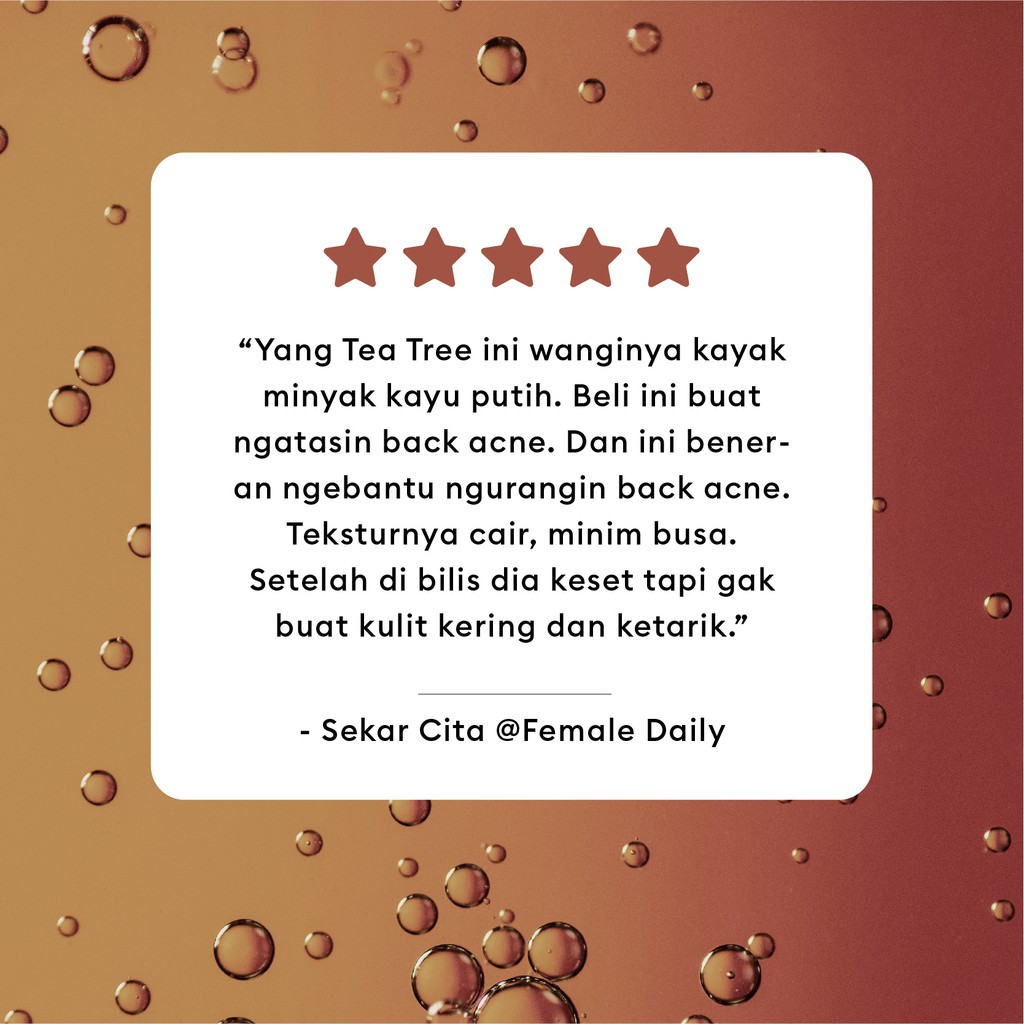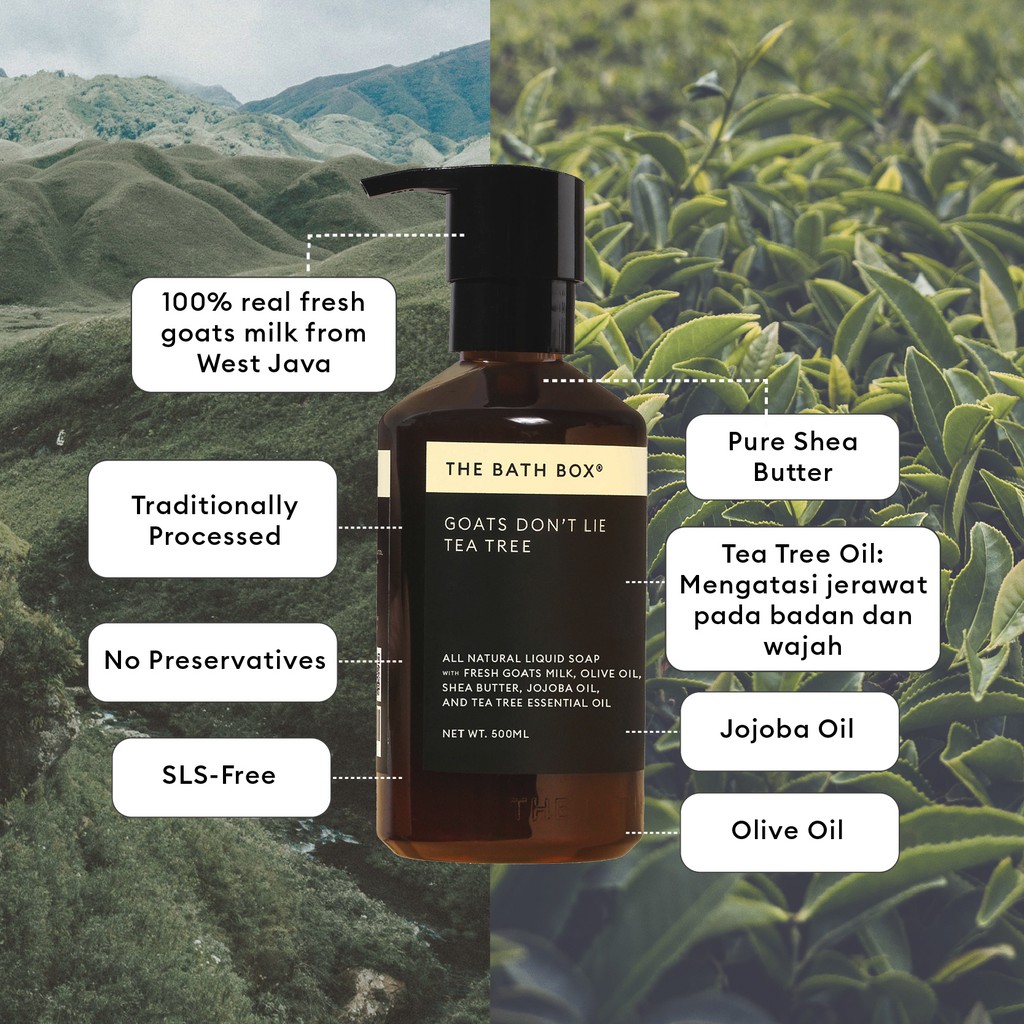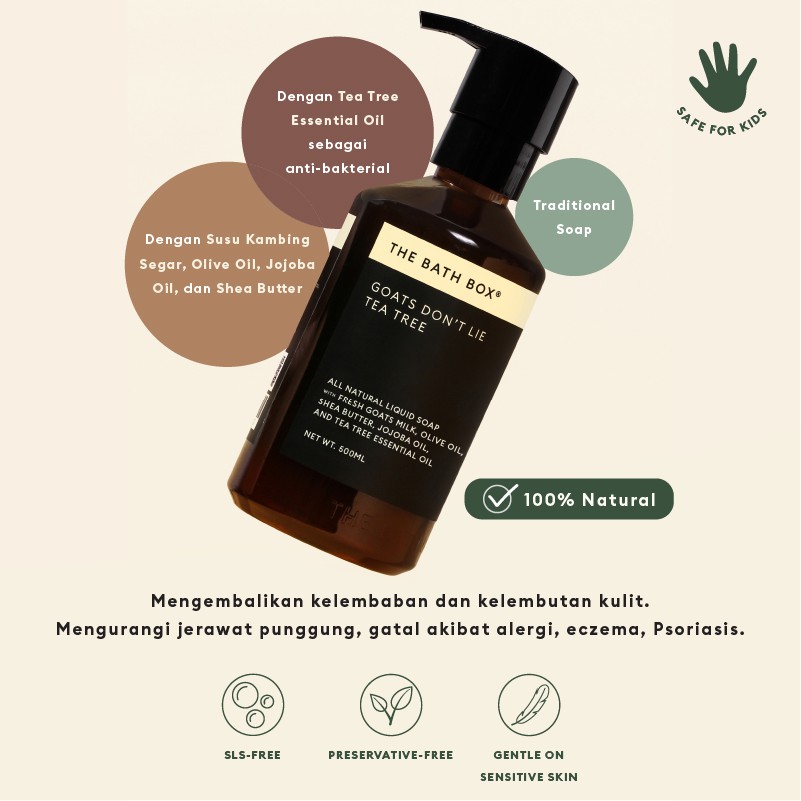 Produk ini memiliki 2 Variasi Ukuran yaitu :
| No. | Ukuran | Gambar | Ukuran Penuh |
| --- | --- | --- | --- |
| 0 | 300ml | | |
| 1 | 500ml | | |
Alasan kenapa harus beli THE BATH BOX – Goats Don't Lie Tea Tree ( Psoriasis, Back Acne ) sekarang
Kelebihan – Kelebihan membeli THE BATH BOX – Goats Don't Lie Tea Tree ( Psoriasis, Back Acne ) di Toko ini
Jumlah Gambar Produk lebih dari 1, yaitu ada 5 gambar, menurut saya ini kelebihan karena semakin banyak gambar, maka akan mempermudah Anda mengetahui tentang Produk sebelum sampai ke tangan Anda
Saat Artikel ini saya buat, Produk sudah terjual 197 di bulan ini dan total semua ada 7305 Penjualan dari saat pertama Produk diupload
Produk ini memiliki Brand yaitu :The Bath Box Jika Anda Fanatik Brand ini, tentu ini adalah kelebihan
Produk ini memiliki Rating di atas 4 yaitu : 4.9358757062147
Produk ini sedang diskon sebesar 3%%. Buruan Sikat!. Jika saat ini diskon Habis ya Maaf, kan Diskon ini ada saat Artikel dibuat. Cek saja dulu.
Toko ini termasuk Toko Official, Toko paling terpercaya untuk sebuah Merek adalah Toko Official.
Harga THE BATH BOX – Goats Don't Lie Tea Tree ( Psoriasis, Back Acne ) saat ini masih murah hanya Rp. 144.530,00, kita tidak akan pernah tahu tentang Harga ini di masa depan, juga stok barang ini nanti atau besok hari, bisa saja harganya naik tinggi atau bisa juga stok sudah Habis.
Untuk menghindari kehabisan stok atau kenaikan harga yang tajam saya menyarankan Anda untuk segera mengecek dan membeli Produk ini sekarang juga dengan cara Klik Di sini
Bicara soal kelebihan sebelum Anda memutuskan membeli, berikut ini adalah kekurangan Produk ini menurut data yang saya ambil dari Shopee.co.id, Data ini valid saat tulisan ini ditulis dan tentu saja data ini bersifat dinamis, data terbaru akan Anda temukan setelah membuka Halaman Penjualan di Shopee.
Kekurangan – Kekurangan membeli THE BATH BOX – Goats Don't Lie Tea Tree ( Psoriasis, Back Acne ) di Toko ini
Produk ini tidak sedang Flash Sale, tidak semua Seller suka Flash Sale, saya rasa ini bukan kekurangan, Jika Anda anggap Harga Rp. 144.530,00 itu murah untuk ya ambil saja
Tidak bisa COD, Bukan kekurangan, COD kan Harga lebih mahal 9% atau Anda harus membayar tambahan biaya lebih dari Rp. 13.007,70 Jika membeli barang ini dengan COD, Biaya 9% di samping baru dari harga barang, tambahan 9% untuk Ongkir belum saya hitung.
Tidak bisa dibeli dengan CC atau Kartu Kredit.
Tidak bisa dibeli secara Grosir, Bukan kekurangan yang berarti.
Kesimpulan
Setelah mengetahui kekurangan dan kelebihan di atas, sekarang Giliran Anda memutuskan, Jika Saya jadi Anda maka saya akan membuka Link Penjualan di Shopee dahulu, lalu mempelajarinya dan jika cocok maka langsung membeli hari ini.
Itu Jika Saya adalah Anda dan saya sedang mencari Produk ini.